Guide courtesy of Brian Sorenson, <!-- m -->
http://www.msnusers....littleecho.msnw
<!-- m -->
N.B This is intended as a guide only, if unsure please seek professional assistance. Yaris Club uk accepts no liability, all work is carried out at the owners own risk. This how-to was constructed while working on an echo, as a result there is the possibility of differences in some of the photos
Replacement of spark plugs is fairly simple, but the mistakes you can make may cost you. So BE CAREFUL!!
You'll need
Spark plugs (Desno IK16 is what I used. Stock is Denso K16R-U or NGK-bkr5eya), -10mm socket + wrench, -16mm Spark plug wrench, -Plug gap tool (if gapping is required. Not required for iridium), -Anti-seize compound, -12" piece of tubing (optional, but very helpful especially for beginners), -torque wrench (also optional, but highly recommended)
For best results do this when the engine is cool. First thing in the morning is a good idea.
Pop the hood and disconnect the negative battery terminal, and remove the engine cover (10mm bolts)
You should do one plug at a time until you're familiar with what goes where.
Under the engine cover use a brush and towel to clean away dirt and debrit so it wouldn't be falling down the spark plug wells. Then use the 10mm socket to remove the 4 bolts holding the coil packs/boots down.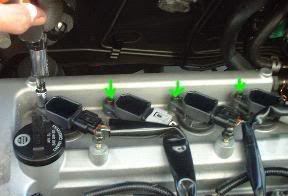 Once all the bolts are out do one replacement at a time. Remove the first boot from the plug by giving it a twist and pulling it off the plug. (if there isn't enough slack in the wire to pull it out, you can disconnect the clip)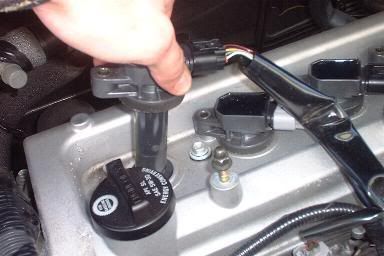 Now you can see the top of the plug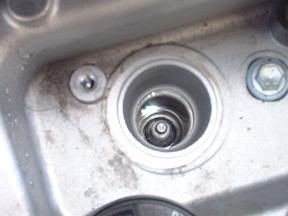 You can insert the spark plug wrench and unscrew the plug counter clockwise
-or-
if it's stuck you can use a wrench (torque wrench in pic) and the 16mm socket on an extension to break it loose.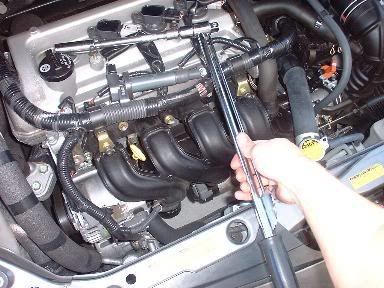 Once you get it out try not to let anything fall into the cylinder. Once it's unscrewed the plug will stay in the plug wrench (if equipped with rubber grommet) and you can lift it right out. If you aren't using a plug wrench you can use a small section of hose to push down on the end of the plug or some other imagenative device.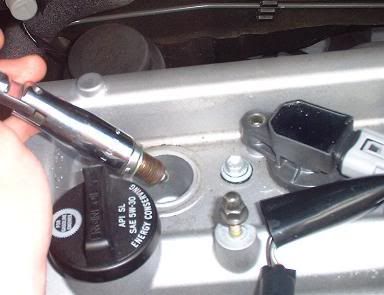 Inspect the old spark plug. Here are some examples of what to look for.
: <!-- m -->
http://www.ngksparkp... ... country=US
<!-- m --> Here's a side-by-side of the old and new plug. Notice the rounded electrode on the old plug and the slightly larger gap.
NGK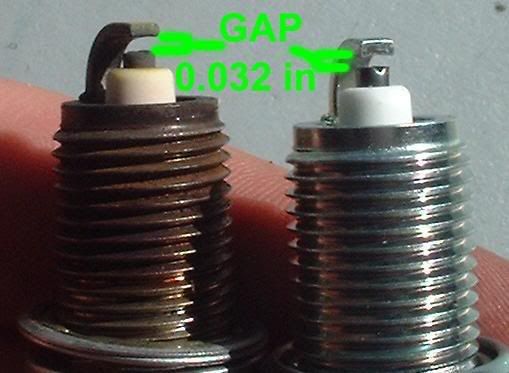 Denso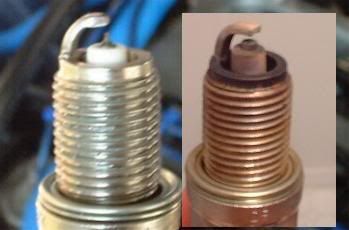 Check the gap on the NEW plugs. (old plug shown) (iridium is pre-gapped)