If your car has done a fair amount of miles, or you bought the car 2nd/3rd hand and don't know the history regarding oil change, then this is a very good DIY to have a go. Expect spending GBP 30-50 for some good quality gear box oil and some tools which you might not have in your tool box. Timewise, give youself a good 2-3 hour if it is your first time.

This write up is for 1.0 Yaris. Other models's proceedure is very similar, it's just that the oil capacity, torque setting / socket size, or plugs locations are different. So please check before proceeding if your car is not a 1.0 Yaris.

Please do not copy without permission, any usage of this materials without permission in advance would bind to legal liability. These are only advice and personal assemblies. I shall not be responsible to any damages or injuries for the performance of below instructions. Always seek for advice from professionals when uncertainties arise.

Misc Information:
Torque setting for both fill and drain plugs are 39Nm / 29 lbf ft
Socket size for the drain/ fill plugs are: 15/16
Socket size for the bolts that holds the lower cover panels: 10mm
Manual Transmission capacity: 1.0 models - 1.4 litres / 1.3 models - 1.9 litres

Tools used:
1x 2 way spirit level (GBP 2.99 from Halfords)
1x 2 litre+ container (I used resealable food box from Morrisons, about GBP 2-3. Make sure it can take at least 1.5 litre of fluid)
2-3x car jacks (for fine leveling the car, get them cheap from scrapyard, or borrow your neighbour's)
1x torque wrench (GBP 13 from ebay)
1x box set of socket and wrench (GBP 5 from Sainsbury or Tesco, can't remember which I bought it from :? )
1x pair of washing up gloves (in case of hot oil, greasy hands, and gives you extra grip)
1x roll of kitchen towel

Parts required:
2x 1 litre of gear box oil (I used Castrol DriveLine Syntrax Universal SAE 75W90 APL GL4/GL5, GBP 10.99 from Halfords)
2x Washers (Toyota Part number: 90430-W0001, about 80p each from Dealership)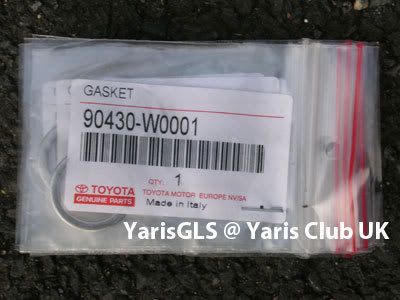 Method:

1. Drive your Yaris for at least a good 15 minutes to warm up the gear box.

2. Park your car on a level ground (if possible) and apply the hand brakes.

3. If desired, the front of the car can be raised for easier access.

4. Remove the lower cover panels of the passenger side, there are in total of 5 10mm bolts to remove.




5. Loosen the filler plug with a 15/16 socket and a good wrench.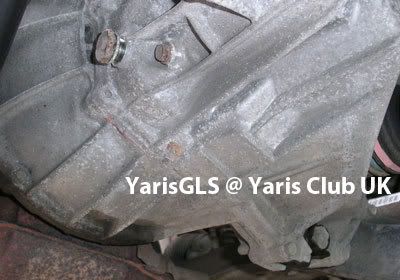 6. Place some newspaper underneath the gear box area and place the container underneath the drain plug.

7. Now unscrew the drain plug, and please note that the stream of oil will shoot out towards the passenger wheel at the first few seconds, then gradually comes back to directly underneath the drain plug. So be prepared to move the container during the draining process. Wear Gloves to protect from the hot gear box oil.

Leave the oil to drain until there are no more drops, it took mine about 45 minutes to completely drain to the last drop.

8. Clean the area of the drain hole, and with a new washer, reinstall the drain plug at the correct torque.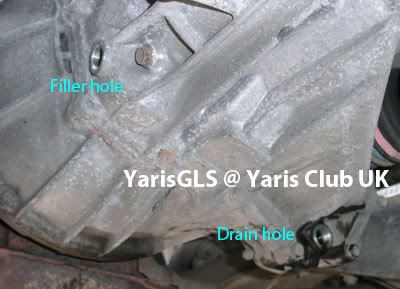 9. Now use the spirit level and check that the car is absolutely level. Use some car jacks at the four jacking points to adjust.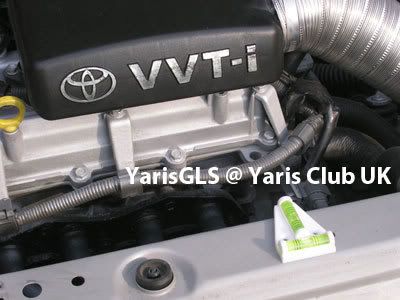 10. Now place the filler tube at the filler hole and squeeze the gear box oil bottle. After most of the oil is out of the bottle, swing the bottle upwards so the remain oil inside the bottle could drain out.




11. Grab the 2nd bottle, and squeeze until approx 400ml is pumped into the gear box. Excess oil should start to flow out slowly.

Wait until the flow stabilise. Then clean the area and reinstall the filler plug with new washers. Again, with the correct torque. Reinstall the lower cover panel temporarly using 2-3 screws so that it won't fall, and go for a 10 minutes drive.

12. Park and level the car again, and remove the lower cover panel. Wait for a few minutes and unscrew the filler plug only, and fill some more gear box oil into the gear box. Wait for excess to flow out and stabilise.

13. Reinstall the filler plug to the correct torque, and reinstall the lower cover panel with all the screws. Lower the car, clear away the tools and wipe off dirt and oil. Job done!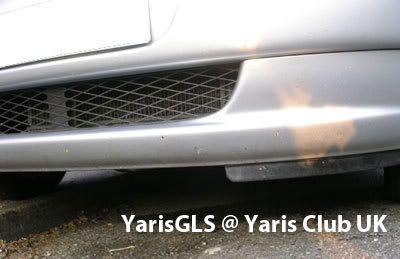 P.S. Always dispose used oil safely. Check on http://www.oilbankline.org.uk for your nearest authorised disposal site.